A camping hammock is designed to allow a camper sleep in a suspended cot as opposed to a conventional tent on the ground. Outdoor enthusiasts have discovered the comfort that comes with such a sleeping arrangement. Since there are many products on the market, we've decided to review 8 of the best camping hammocks to make your selection easier.
1. Honest Outfitters Single & Double Camping Hammock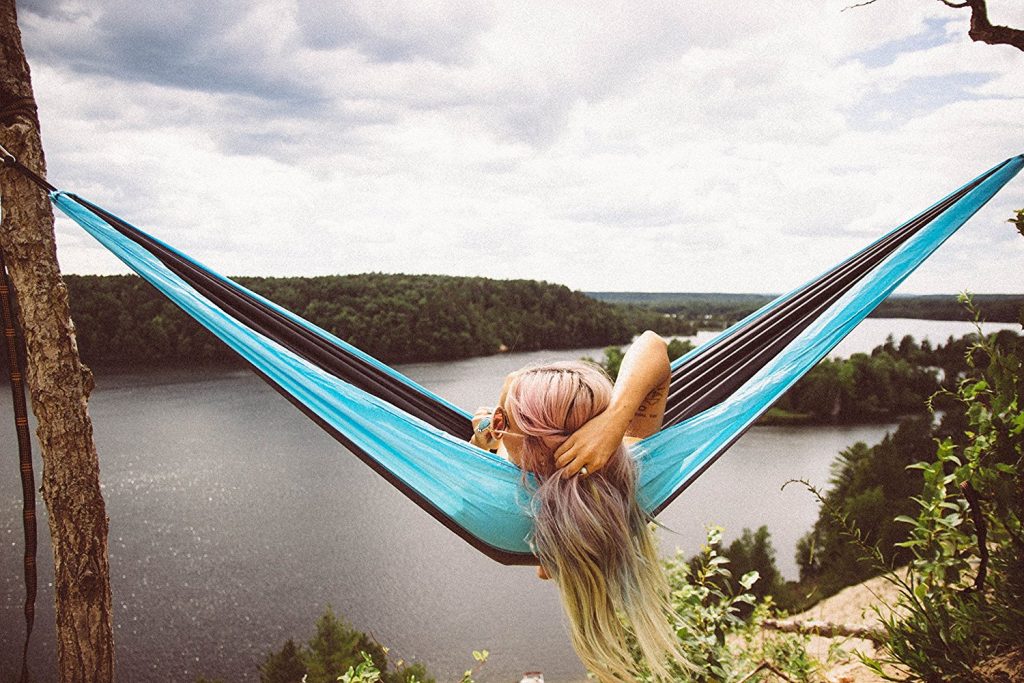 It's a comfortable portable hammock that can support 500 pounds thanks to its super strong new 210T nylon material. It's also a double hammock that can comfortably fit two people and still leave lots of room. The hammock is easy to set up and lightweight, which makes it perfect for camping, traveling, backpacking, or you could just hang it and relax in your patio. It will take you under three minutes to suspend the cot between trees and nearby objects just using the straps. When you place an order, your package will include a double camping hammock, two straps of 10 feet and two solid steel carabiners. The double hammock is 118 inches long and 78 inches wide while the single one is 108 inches long and 55 inches wide.
2. Winner Outfitters Double Camping Hammock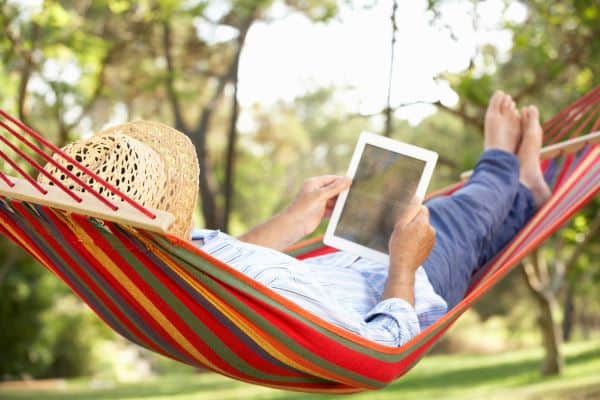 One of these hammock tonts can support 500 pounds and is designed to fit two people comfortably. This double hammock is made of extra strong 210T nylon parachute fabric. The dimensions are 118 inches by 78 inches and the cot comes with tree-friendly straps that will protect our trees and avoid damage being caused by a rope. Also, the diameter of the rope is 0.3 inches compared to other brands that offer only 0.1 inches. The carabiners are flat and smooth, which means that the edges won't snag a hammock or rope. The nylon makes the hammock lightweight and the material is also breathable and resistant to mildew. Triple interlocked stitching is used to maximize the strength of the hammock for your safety. The hammock is sturdy and takes less than three minutes to set up.
3. MalloMe Double Portable Camping Hammock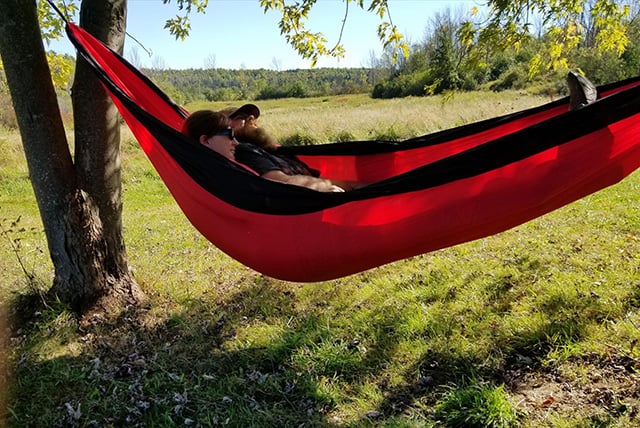 These hammock tents are available in 27 colors and came with heavy-duty straps. The carabiners are designed not to snag and the double hammock measures 118 by 79 inches. Two adults can comfortably fit in this hammock and the unique strap design offers a breaking strength of 1,000 pounds, giving the product twice the strength of its competitors. The hammock is made of super strong 210T nylon fabric and it's ultralight and compact. A sack has been conveniently sewn into this hammock so that you will never lose it. It packs down to a volleyball size and it weighs just 2 pounds including the straps. The hammock unfolds from its sack within seconds and two straps and high-strength carabiners allow fast and easy setup.
4. Gold Armour Camping Hammock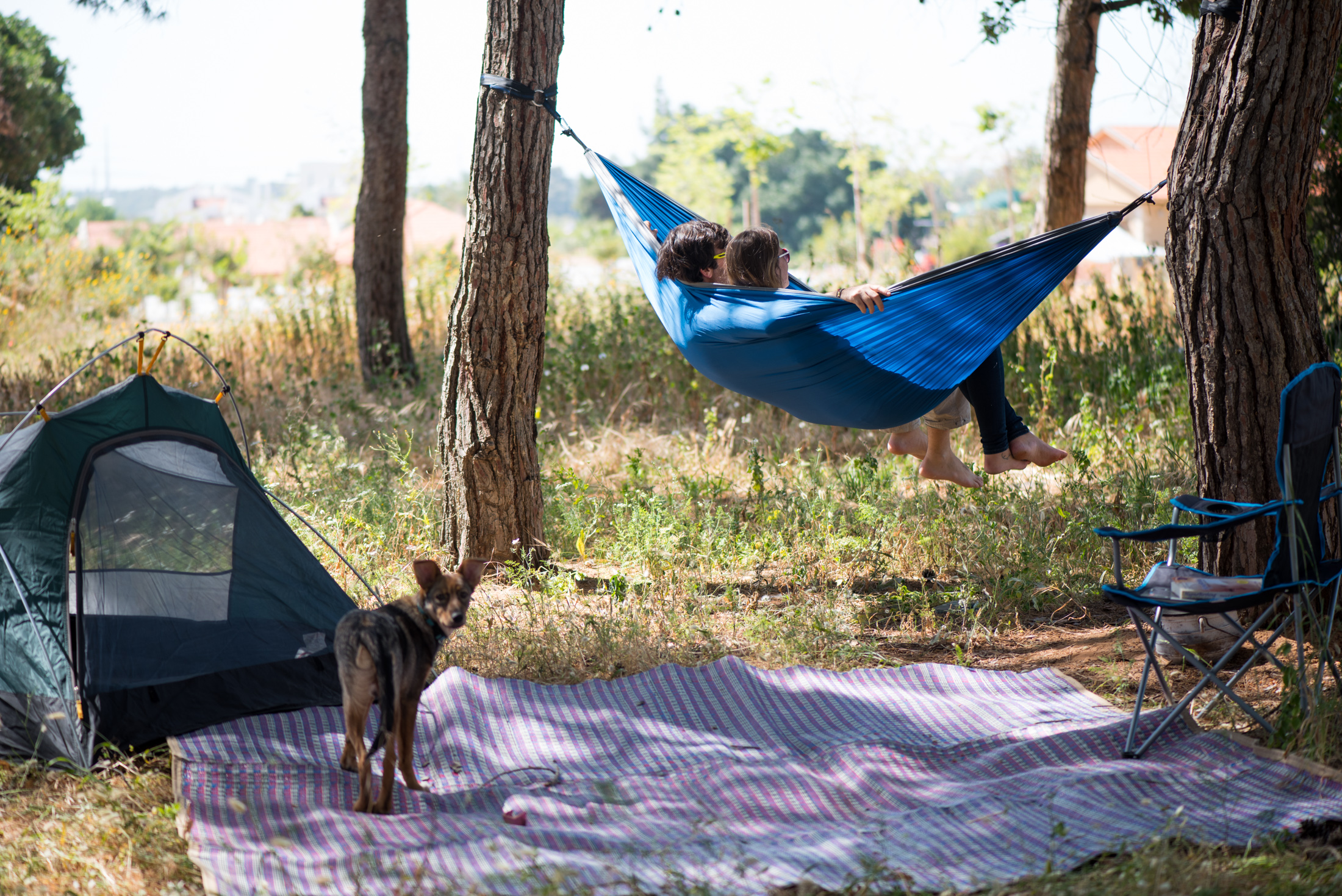 It's an extra-large double parachute camping hammock made of lightweight yet super strong 201T nylon. It comes with 10 feet of straps and is luxuriously sized, measuring 125 by 79 inches. The unique strap design of this product gives it a breaking strength of 1,000 pounds thanks to heavy-duty triple stitching. It packs down
to a volleyball size and weighs just 1.5 pounds. The hammock is so easy to set up thanks to a pair of heavy-duty carabiners with 16 attachment loops making up 32 in total.
5. Wise Owl Outfitters Hammock for Camping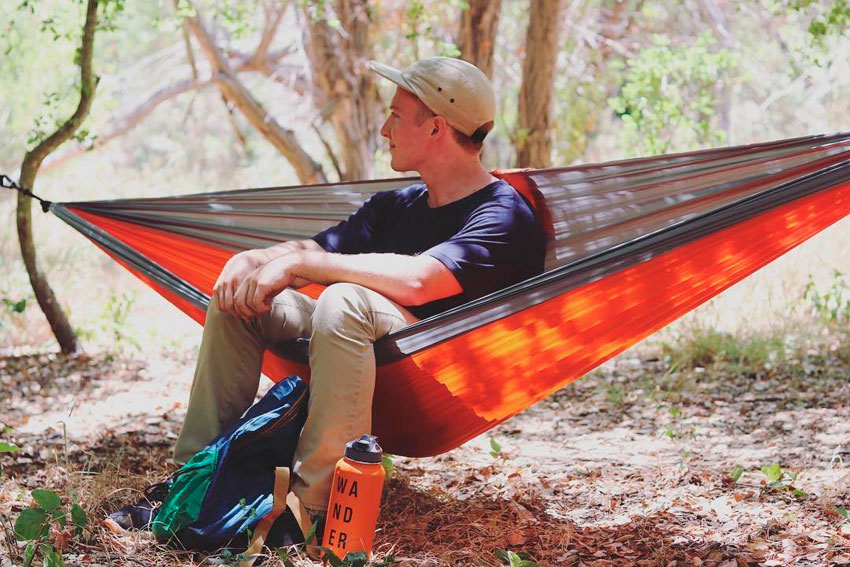 These Hammock Tents are available as either single or double hammocks. A single hammock is 9 by 4.5 feet and weighs just 16 ounces. A double hammock is 10 by 6.5 feet and weighs just 26 ounces. Each hammock comes with attached carabiners and a pair of 8-foot long rapes for hanging it up. They are made of 210 nylon, the same type of material used for skydiving parachutes. Even though the material is extra soft, it's also very strong and is guaranteed to give you a comfortable and relaxing experience. The manufacturers offer a 100% satisfaction guarantee and if you're not entirely satisfied with the product, you can ask for a refund with no questions asked.
6. ENO Eagles Nest Outfitters – Double Nest Hammock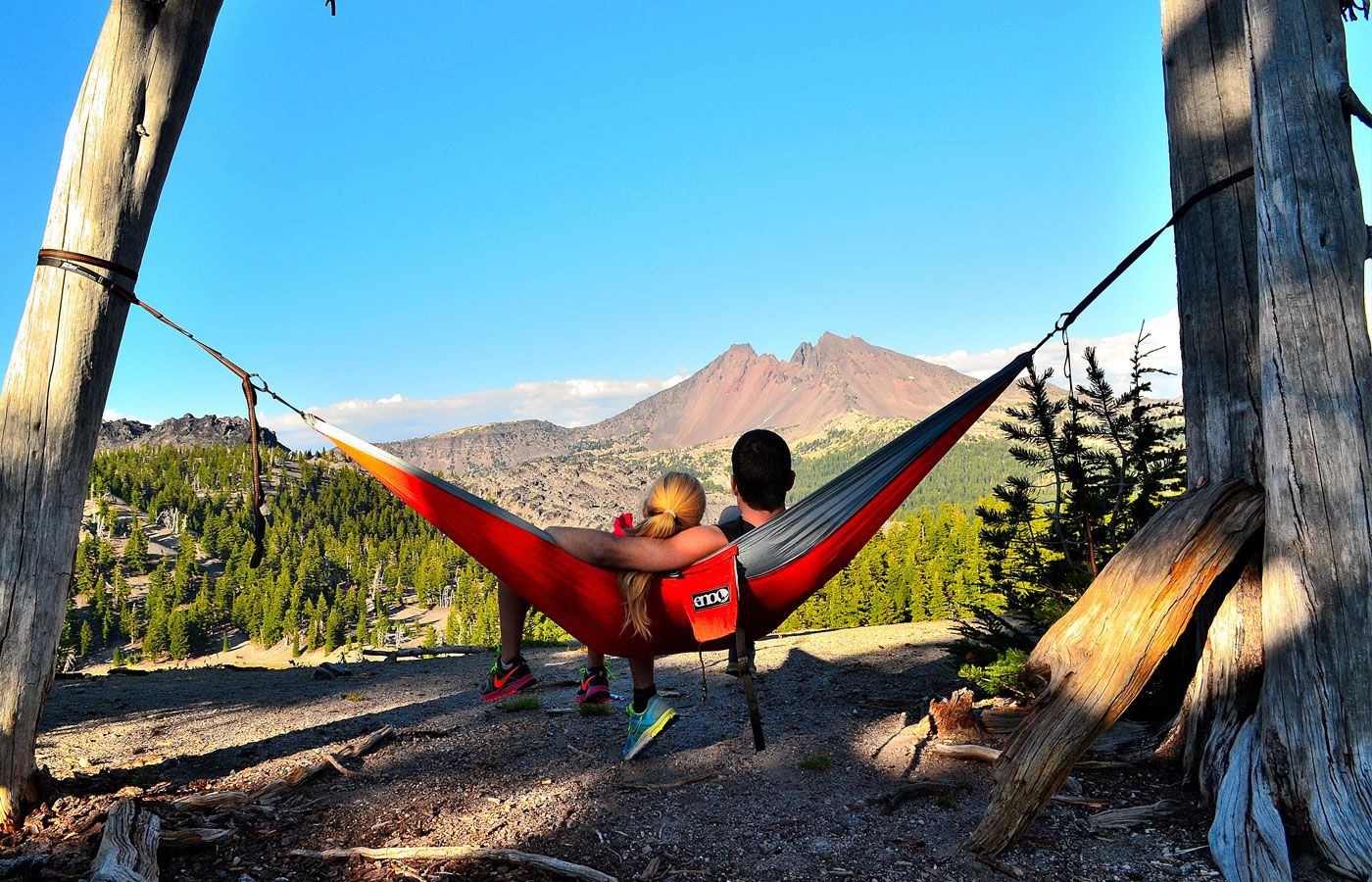 It's a versatile, durable and compact portable hammock, which makes it ideal for camping, hiking or even lounging in your backyard. It weighs just 19 ounces and is just 5 by 5 inches when packed. When unfolded, the hammock is 9 feet 4 inches long and 6 feet 2 inches wide. It's made from 70D high tenacity nylon taffeta and it's a breathable material that is also quick drying and can support up to 400 pounds. It comes with aluminum wiregate carabiners and nautical grade lines with stainless-steel snap links that allow you to secure your hammock to pales, trees, walls, or boat masts.
7. Legit Camping Double Hammock – Lightweight Parachute Portable Hammock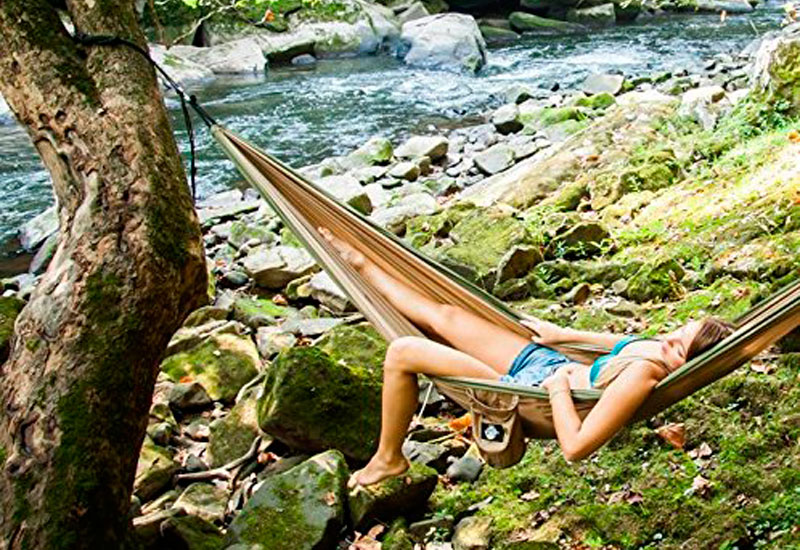 This portable hammock can support 400 pounds and comes with its own straps and steel carabiners. The hammock comes with a carrying sack and is made using military-grade 210T nylon material. It can comfortably fit two people and makes a comfortable and long-lasting bed. The manufacturers are so confident of their product that it comes with a lifetime warranty.
8. Bear Butt Double Parachute Camping Hammock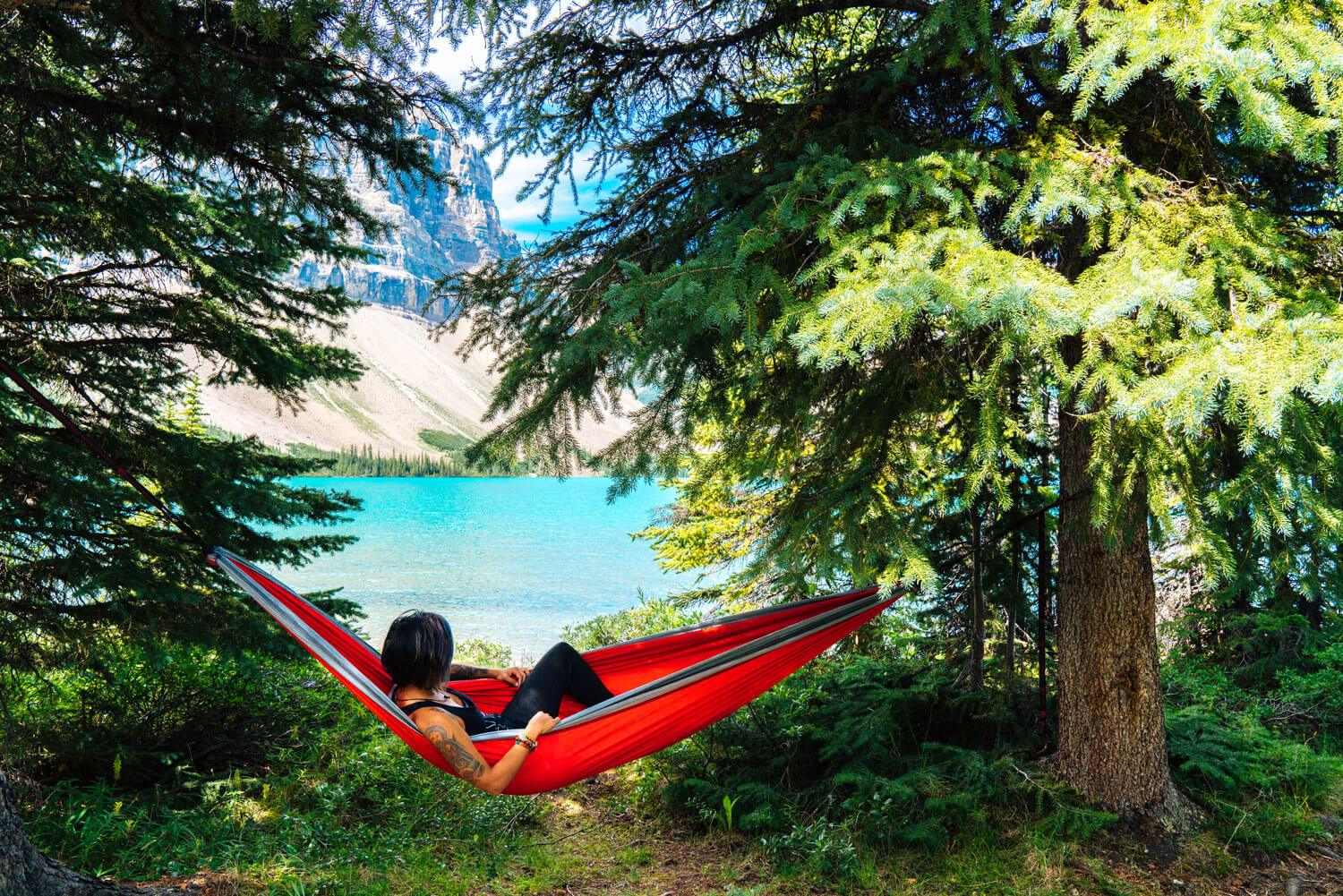 These hammock tents are available in lime green with gray borders. It doesn't need any special stand and you can set up in minutes. You just hook a rope through either straps at each end of your hammock and securely tie them between two posts or trees. At just 1.5 pounds, the hammock is lightweight and you can fold it down to a very compact size. It can support 500 pounds and is equipped with fortified nylon straps to stop tearing or ripping.