Electric bikes had grown in popularity during the covid-19 pandemic. In the first and second waves of restrictions, this commute plan is a guarantee of effective social distancing.
Therefore, quite a few cyclists take this kind of transportation to work every day and can fully appreciate the advantages of riding electric bicycles.
Say goodbye to public transport
Catching up on public transport or suffering constant delays is part of everyday users. When you choose to use your bike as your commute, you no longer have to worry about delays, fear of spreading the virus or even feeling ill on public transport.
Conducive to urban development
Now, some infrastructure makes bikes easier to use in our cities. In fact, bicycle facilities have multiplied, and this more favorable environment enables bicycle owners to enjoy the road better, and they help promote the use of electric vehicles.
These moves are really pushing people to turn more to e-bikes for their daily commute.
Combining business and leisure
By using your bicycle as your basic commute, you can easily combine business with pleasure. Pedaling on an e-bike activates the muscles of the heart and body and is a perfect alternative to indoor training sessions. 30 minutes of cycling a day is enough to replace your evening jog or a brisk workout at home.
By stepping on the pedal every day, you can prevent all kinds of serious diseases, such as obesity, diabetes, cardiovascular disease, and some types of cancer.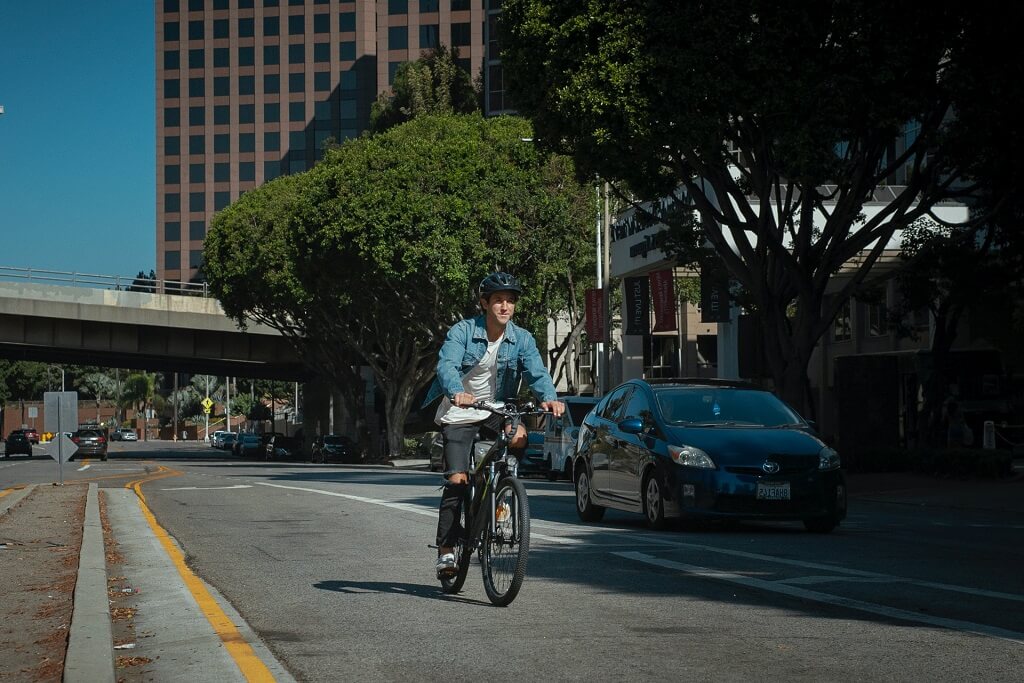 Ride any time
Electric bicycles are an efficient means of transportation for all seasons. Whether it's raining, windy, or snowing, you can ride your bike without restrictions.
Depending on the season, you can choose the right accessories to make your ride more convenient.
No later for work
3 out of 10 employees are delayed by public transport delays. Traffic jams or public transport delays are the main reasons they are late. With an e-bike, commute times remain stable regardless of the traffic conditions on the road. So you will no longer be a victim of rush hour road congestion, you have full control of your time and you can easily go to work without any traffic concerns.
Exercise your brain
When you choose to ride your bike to the office, you're already starting to stimulate your brain. Those who used e-bikes to work had better brains and were more focused on their work.
Relieve pressure
Stress can have extremely harmful effects on people's health. Today, 8 out of 10 employees suffer from anxiety disorders due to constant work stress. Fortunately, there are a few tricks to limit the negative effects of stress on an individual. The most recommended solution is physical exercise, including riding an electric bike!
Drive freely, not afraid of traffic jams, let your mind fly, and make it easier for you to arrive at the office. Unlike people who drive or take the subway, cyclists have better psychological qualities.
Cost savings
From an economic point of view, bicycles are undoubtedly the best means of transportation. In addition to greatly reducing maintenance and operating costs, you can enjoy even greater benefits when using an e-bike on a daily basis.
Be part of a new community
Electric bikes have grown in popularity, and users around the world are quickly coming together to share their passions. In addition to the many benefits of riding an electric bike, you'll have the opportunity to join this growing community.
As a result, you will meet people who feel the same way as you and who will not hesitate to offer advice to improve your experience.
Helping you become the best employee in the company
Who doesn't dream of being one of the best employees in the company? Adopting an electric bicycle as a means of transportation to work will help you accumulate more advantages, such as good health, diligence, punctuality, more efficiency, concentration, calmness, clear decision-making, etc. All of these abilities will make you the ideal employee.
On the employer side, having employees with a large number of cyclists can improve a company's image. Whether from a health, economic or environmental standpoint, this decision will have a positive impact on your brand!