The 7.1 surround sound systems for home are expected to provide realistic cinematic effects to viewers. Based on research, excellent audio quality is responsible for 50% of your viewing satisfaction. Your movie experience will never be complete without the realistic effects brought by the impressive audio quality. The 7.1 surround sound is the latest technology used in the home theatre speaker system. This surround system delivers accurate frequency response, efficient sound response.
A 7.1 surround sound system is typically composed of an eight-channel audio system, an additional of 2 more speakers as compared to the typical 5.1 sound arrangement which is composed of six-channel only, and to the older 2.1 which is made up of two speakers and one subwoofer.
Due to its seven discrete audio channels which include Left, Right, Center, Left Surround, Right Surround, Left and Right Back, and the Subwoofer, the 7.1 surround sound systems are recommended for those who want to experience a hyper-reality entertainment right at the comfort of your home. Sound reflection is scattered to both left and right so sound reproduction is equal and the listener will receive the same audio quality anywhere in the living room.
---
1. Onkyo SKS-HT540 7.1 Channel Home Theater Speaker System
Another addition to Onkyo's 7.1 home theater in a Box system or better known as HTIBs. The package includes eight pieces of boxed speakers but is also sold individually.

In terms of design, their black ash color adds a notion of ruggedness and robustness to the speakers. The tall speakers have a dimension of 17.1 x 6.25 x 8 inches while the four remaining wall-mountable speakers measure 10.5 x 6.8 x 4; enough size to give you mind-blowing music experience.
Each of the three anterior speakers has circular baffles burnished with metallic silver and are meticulously concealed by warped grilles. Both the speakers and subwoofers are suited with black cloth and encased with metallic grilles to filter sound quality.
The grilles within the three front speakers are detachable and the rest is fixed permanently into it. The three front speakers are configured with two 5-inch woofers and a sing 1-inch dome tweeter while the four surround speakers expend a single 3.1 inches woofer and 0.75-inch ceramic dome tweeter. Its subwoofer on the other hand displays a 10-inch woofer and an amplifier powered by 230 watts. The subwoofer's port line is smartly oriented right below the woofer so it wouldn't be affected by corner setting.
Soundstage performance is at your grasp with SKS-HT540's 130 watts dual way bass response along with the power emitted by the center and surround speakers allowing you to enjoy a cinematic experience at the comfort of your own home. You'll feel the impact and power of every scene with its 230W subwoofer.
CNET's 7.7 overall ratings along with the editor's note commenting that "the Onkyo SKS-HT540 is the best-sounding surround-sound speaker package you can get for less than $300" is enough to give you a hint on what to consider when buying a 7.1 channel home theatre speaker system.
---
2. Fluance SX Series 7.1 Home Theatre Surround Sound Speaker System with DB150 Powered Subwoofer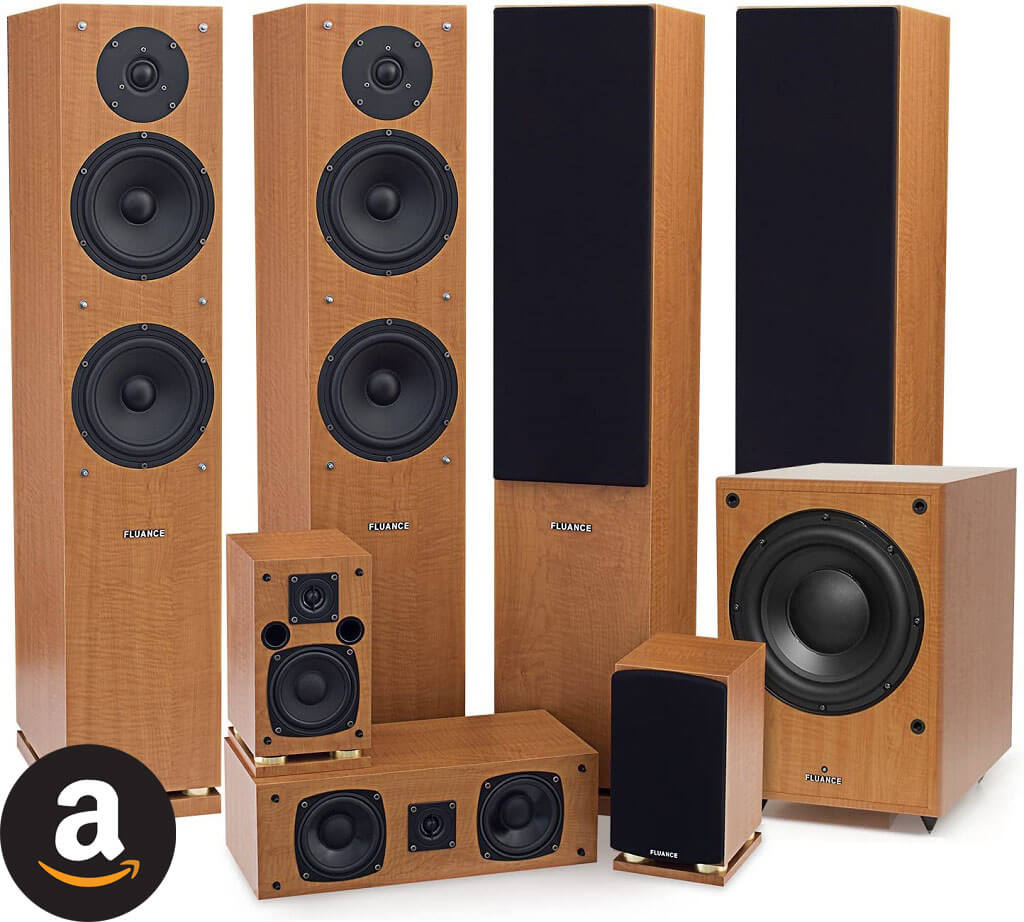 The 7.1 surround sound systems are crafted from high quality and audio enhancing MDF wood structure to inhibit displaced cabinet audio reaction. Cabinets are integrally clasped both horizontally and vertically to ensure that audio semblance will remain unaffected from vibrations and cabinet and reverberations from the drivers. Anterior low deflection flush grilles allow a wide range of sound imaging.
Front baffles are strengthened to secure distortion-free and concise audio production imagery. The High-frequency reaction is clean, crisp, and clear as contributed by its state of the art Neodymium equalized genuine silk dome tweeters. Tweeters can endure longer shelf life even when used under long strenuous playback time because of its Ferro Fluid which acts as cooler.
Fluance SX Series is also armed with a tweaked bass port which regulates low-frequency retort which in turn enhances sound productivity.
It is also internally secured from other possible obstructions from external video products through its magnetic shield. In terms of durability, Fluance SX Series is furnished with Butyl rubberized exterior so it would endure pressure, vibrations, and other external forces. Exteriorly furbished with the finest natural beech vinyl veneer wood grain which adds sophistication and elegance that will complement any interior design. Footings are built with floor spikes so it wouldn't scratch or damage your floor design.
Plus, Fluance SX Series 7.1 Home Theatre includes a 150 watt DB series subwoofer. Fluance SX Series has garnered a 4-star rating in Amazon, proven quality beyond words.
---
3. Acoustic Audio HT-57 7.1 Home Theater Speaker System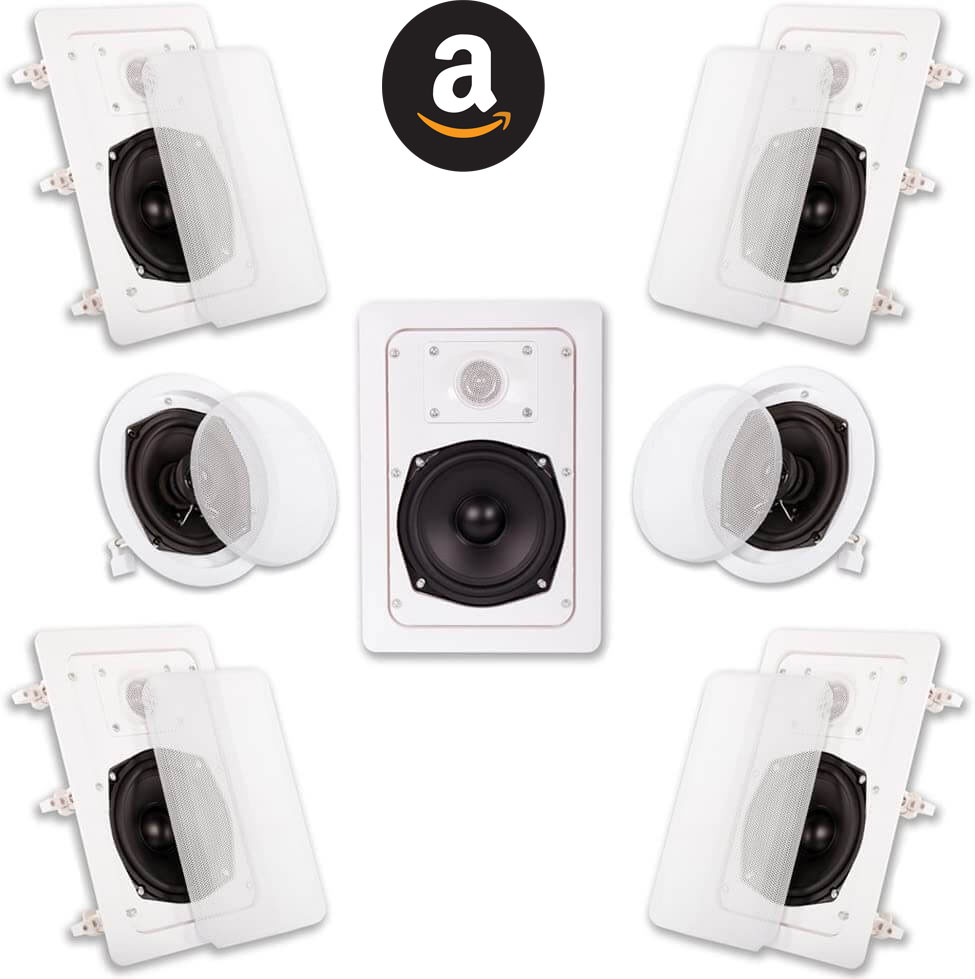 Perfect match for minimalists for its space-saving wall or ceiling mount, the Acoustic Audio HT-57 7.1 home theatre speaker system comprises of a seven-piece speaker system five of which are rectangular in shape and measures 5.25 inches which are capable for ceiling and wall mounts while the other two speakers are circular in structure and measures 5.25 inches which can be mounted on walls and ceilings as well.
Due to its seamless mounting structure, it would fit into any rooms and you don't have to worry about cord clutters. Volume capacity is undisputedly loud for its 200 Watts peak power per speaker or total power handling of 1400 watts. The 7.1 surround sound systems are capable of producing up to 97 dB sensitivity and are programmed with a 40-22,000 Hz frequency response.
Acoustic Audio HT-57 is equipped with robust polypropylene cones that bring optimum cinematic effects to your movie nights. Its soft dome tweeters produce high-frequency reactions making every emotion realistic and every battle scenes natural. Its exteriors are artistically designed starting from its white color which may enhance and complement any wall paint color and any interior design type. Its white grills add a notion of robustness and a touch of elegance as well.
In terms of material, Acoustic Audio HT-57 is made up out of butyl rubber surrounds for enhanced robustness and versatility. It's not a surprise that Amazon rated Acoustic Audio HT-57 with 4.5 stars out of 5 considering its volume capacity, sound quality, design, and durability.
---