The vibration machine is the most popular fitness equipment nowadays that provides you with the utmost health benefits. We're here to provide you with constructive tips and reviews on them.
What is Whole Body Vibration?
Whole-body vibration or WBV training is utilized by a vibrating plate on which you can sit or stand doing different exercises. According to studies, WBV training can accelerate muscle capability, improve circulation, increase bone mineral density, body performance, strength, and more. You can increase muscle tone, strength, circulation, and flexibility in ONLY 10 minutes a day, 3 times a week by using a Genki Vibration Platform! In a word, they make exercising easy and they get results.
Best Genki Vibration Machines 2021
| Product | Genki Ultra Slim Vibration Machine | GENKI YD-1015S Vibration Platform with Bluetooth MP3 | 3D Dual Motor Vibration Machine with Remote Control |
| --- | --- | --- | --- |
| Photo | | | |
| Frequency | 50-60Hz | 50Hz | 50Hz |
| Speed Range | 1-150 | 1-120 | 1-120 |
| LCD DISPLAY | YES | YES | NO |
| AUTO RUNNING PROGRAM | 5 | 5 | 6 |
| MUSIC AND BLUETOOTH | NO | YES | NO |
| Platform Type | Vertical | Vertical | Oscillating |
| Amplitude | 0~0.4inch | 0~0.4inch | 0~0.4inch |
| Max Power | 200W | 200W | 400W |
| Weight Capacity | 350lbs | 330lbs | 353lbs |
| Product Size (LxWxH, inch) | 27.5 x 15.7 x 5.5 | 32 x 19 x 7.6 | 30.5 x 15.4 x 5.9 |
Genki has developed a diverse type of vibrating machine with different colors, designs, and programs. Let's take a look at the list of the best Genki Vibration Machines 2021 and find out which one is your perfect match.
So, now that we are done with some formal introduction… we can start looking at the comparison table and I will provide you with more information that is going to help you.
1. Genki Ultra Slim Vibration Machine Plate Platform Body Shaper Trainer Exercise Fitness, Max User Weight 353LB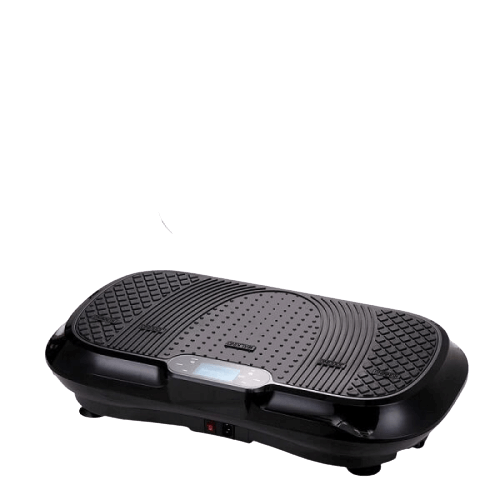 This Genki Ultra Slim Vibration Machine is slightly more expensive than the first one but with a larger weight capacity, 350lbs VS 330lbs. What's more, it also has an easy-to-read LCD screen for convenience. From P1-P5 TOTAL 5 AUTO RUNNING PROGRAM, it can be chosen according to different needs. Compared to the upper one, it has 30 more running speed levels, 150 in total. With the highest frequency among all Genki vibration platforms, 50Hz-60Hz, you could choose a specific speed and frequency for your own adjustment as well as decide an exercise mode among the 8 modes: Walking, Jogging, Running, Yoga, and more.
It has smooth gliding rollers to make moving effortlessly while the rubber protective surfaces prevent it from sliding as you exercise. Designed to give you a full-body workout in the comfort of your home it is equipped with a powerful yet quiet motor. Featuring multiple levels of vibration to adjust to your fitness level and increase muscle contractions this machine gives you a full-body workout in a short space of time.
Pros
Highest Frequency
1-150 Speed Range
Bigger Weight Capacity
Easy-to-read LCD Display
Larger Plate Size
Cons
No Music
Only 5 Auto Running Programs
This type of vibration platform also comes in red and green for your preference.
Red is powerful, vivid, and energizing. It excites the emotions and motivates us to take action. If you want to encourage yourself to exercise, the red one is a perfect choice.
The color green relates to balance and harmony. It promotes a love of nature, and a love of family, friends, pets, and the home. This green vibration machine will fit your home gym perfectly.
2. GENKI YD-1015S Vibration Platform Plate Whole Body Massager Machine Slim Exercise Fitness with Bluetooth MP3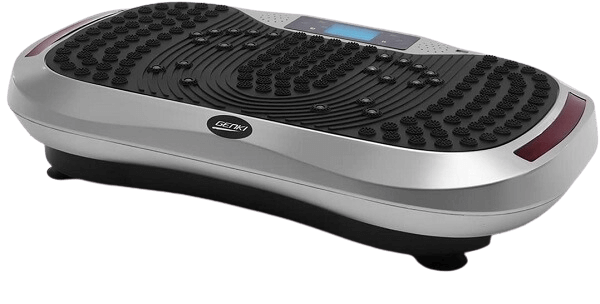 This Vibration Machine is the only one with a Bluetooth MP3 so that you could enjoy music treatment while having hard work. A combination of massage vibration machine and female vibration machine, you deserve it. It supports Bluetooth/USB connection. You can play music from all Bluetooth-compatible devices like phones, tablets, MP3 players, or laptops. In addition, it's equipped with the largest plate size (LxWxH, inch): 32x19x7.6, large enough for even two people stepping on.
With the Genki workout platform, you can have your routine exercise done in only 10 minutes a day for a perfect butt. It also has an easy-to-read LCD display. Aside from similar running mode, speed levels, and frequency as other Genki Plates, this silver one is the ultimate choice for people who want to enjoy a workout for its innovative and sleek design.
Pros
Competitive Price
Music & Bluetooth
Largest Plate Size
LCD Display
Cons
A Little Less Weight Capacity
Only 5 Auto Running Programs
3. GENKI 3D Dual Motor Vibration Platform Machine, 360 Degree Shake, Full Body Vibration with Remote Control, Resistance Bands & Mat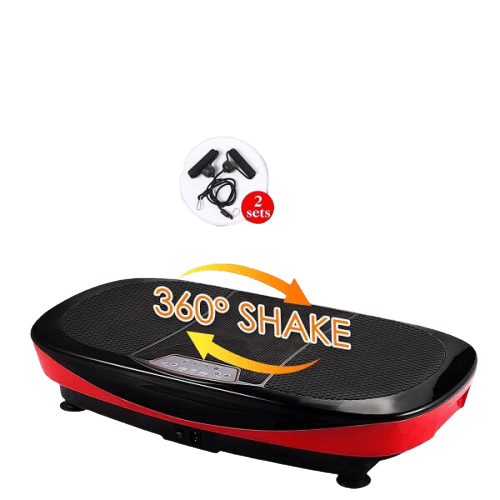 This 3D Shake Vibration Platform is the most popular Genki Vibration Machine among all of them. Despite its higher price, it has the most powerful dual motors. It's the only one that has a 3D Shake function: you can choose side to side (oscillating), up and down (lineal), or for the first time – 3D movements, a smooth circular movement that incorporates both up/down and left/right to give you a full-body functional workout and provide maximum results.
As for running programs, it's got 6 Running Programs (HL, H, L, P1, P2, P3). It has the biggest weight capacity among all Genki vibration machines: 353lbs as well as the highest max power, 400W! Combining with the 3D shake function, it is the best balance exercise equipment for your core strength machine workout.
Pros
3D Shake
6 Running Programs
400W Max Power
Biggest Weight Capacity
Cons
It also comes in black and white, a modern design for your preference.
Conclusion
The vibration machine workout fitness platform will make your body look perfect as well as increase circulation, muscle strength, and flexibility. Buy it now and enjoy a better range of motion, core conditioning and stability, and faster muscle recovery after working out. Transform your life with a GENKI VIBRATION MACHINE, you won't regret it.
---