How many types of commonly-used coffee maker?
Automatic Coffee Maker

: The automatic coffee maker is convenient, quick, high-efficient and consistent in quality. And there are many kinds that need to be kindly maintained, which could cost much money.

Semi-Automatic Coffee Maker

: The semi-automatic coffee maker has following advantages: 1, Water temperature is constant. 2, Pump pressure is stable. 3, Steam is dry and has a constant pressure, which makes it convenient to operate the machine.

Classic Drip Coffee Maker

: The classic drip coffee maker is a classic drip filter. It is convenient, high-efficient, reliable and suitable for public use.

High-Pressure Steam Coffee Maker

: The high-pressure steam coffee maker is a combination of pump pressure type and steam type. It can extract the essence of coffee. The brewed coffee is better with a layer of fat foam.
How Many Ways to Drink Espresso?
First of all, espresso can, of course, be drunk directly, but there are also some popular ways of drinking it. Cappuccino, macchiato, latte, mocha, Italian coffee, American coffee…It seems that these kinds of coffee are made very complicatedly. However, they all come from espresso.
Macchiato: In Italian, macchiato means "stained" or "spotted". It compromises espresso and cappuccino, which allows people enjoy the smooth milk foam and drink the fragrant espresso.
Cappuccino: At the beginning of 20th century, an Italian man, Archie Bbu Natsu, invented the steam coffee maker. At the same time, cappuccino was also invented. Cappuccino is one kind of Italian coffee which is mixed with the same amount of Italian espresso and steamed milk foam. The name comes from the Capuchin friars, possibly referring to the color of their brown cover, surrounded by a ring of coif. Cappuccino is prepared with espresso, milk and steamed milk foam in proportion, which lessens the bitter of espresso and increases the sweet taste of milk foam. And this makes cappuccino's taste more acceptable. The traditional cappuccino is a mixture of 1/3 espresso, 1/3 steamed milk and 1/3 milk foam.
Caffè Latte: Unlike cappuccino, latte has much richer milk flavor with a large amount of milk and milk foam weakening the strong taste of espresso and making it moderate, which could be the first choice for those people who drink coffee for the first time. Caffè Latte is a classical mixture of Italian espresso and milk. The Italians also like to take latte as their breakfast drinks. In the morning, Italians usually boil the coffee and milk at the same time on the stove which is in the sunshine. Italians who drink latte don't so much like Italian espresso as they like milk. Only espresso can it bring an unforgettable taste of ordinary milk. Italian Caffè Latte is made with a small cup of espresso and a cup of milk (150-200 ml). There are much milk and little coffee in latte, which is quite different from cappuccino. It is very easy to make latte. Just pour the boiling bilk into the freshly-made coffee. In fact, there are no rules of how much milk should be poured into. It depends on the personal taste.
Mocha: In Italian, mocha means chocolate and naturally, Café Mocha means chocolate coffee. When flavoring coffee, creamy milk and sweet chocolate combine together perfectly, no one can resist her attractive charm. Currently, the best mocha is produced in Yemen, followed by Ethiopia; Mocha coffee has lubrication from middle-level sour to high-level sour, a good taste of sweetness and a special flavor with the taste of chocolate. It is a kind of pure coffee with the characteristics of a lady.
Frappuccino: Frappuccino is prepared with espresso, milk, chocolate powder and other various ingredients and then shaken by machine, which can combine the flavor of all ingredients together. Frappuccino's taste is sweet and fresh with rich coffee flavor in the chocolate taste, which could make people feel cool. It can be seen as the suitable drink in the middle of the summer.
Top Rated Coffee makers Brands List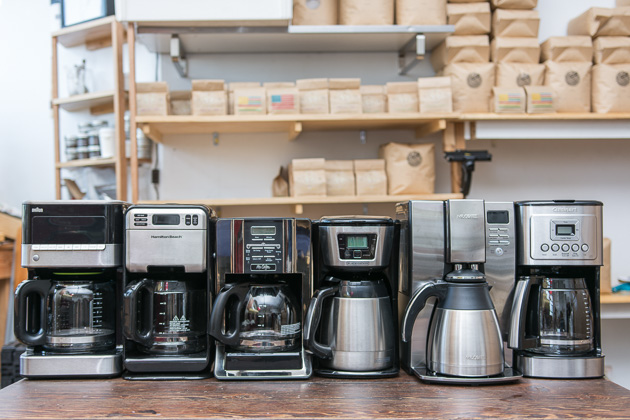 Score is calculated through such indexes that can affect the quality of coffee makers as stability, production time, extraction ability, cleaning ability, usability and so on. The higher the score, the better the overall quality of the brand.
Stability: The more the manual participation, the worse the stability of the coffee. And the finished coffee's taste could be good or could be bad and it is easy to lose the balance, appearing obvious sour and astringent taste. While the automatic coffee maker make coffee under deterministic procedure with little manual participation and stronger taste stability. However, the index stability is not the determining factor in measuring the quality of coffee makers but rather a reference in providing convenience.
Production Time: for different coffee-making methods, it takes different time. For example, the pump-type coffee maker takes half of minute to make a cup of coffee, while drip coffee makers takes hours. When it comes to the actual scene of family use, the time of making coffee has a very important reference value.
Extraction Ability: the highest extraction rate of roasted coffee beans is 30%. Whatever the coffee-making method is, the best extraction rate ranges from 18% to 21%. The low extraction rate (below 18%) means that the flavor of the coffee is not fully dissolved in the water. The high extraction rate (exceed 21%) means that foreign flavor is dissolved in the water.
Cleaning Ability: some coffee makers have the auto-cleaning ability or they are easy to be cleaned, which not only saves the labor and time of manual cleaning, but also avoids remaining the impurities and aging the machine.
Usability: coffee makers of different types have different usability. For example, for the capsule-type coffee makers, users only needs to put the coffee capsules into the machine and press one key to extract the coffee, which is very convenient to operate, compared with the semi-automatic and automatic coffee makers using coffee beans and coffee powder.
Delonghi   85 points
Delonghi, an expert in producing the upscale household electric appliance, is world-renowned multinational group of small household appliances and the world's leading producer of coffee makers. Owing to its outstanding performance in stability, extraction ability, cleaning ability which is obviously superior to most coffee maker brands, Delonghi is listed as the first-recommended brand by the American Consumer Reports. Delonghi automatic espresso coffee makers with unique features that grinding, filling in and pressing the powder, percolation, cleaning can be finished at the same time through pressing one key, which allows a layman to make a cup of pure espresso and drink it in the morning before work. The Delonghi coffee makers' automatic descaling function system make it easy for normal users to maintain the machine without leaving it to the professionals. The price of such professional coffee maker brand will be naturally a little higher.
2. Saeco   84 points
Saeco, one of the most famous coffee maker brands in the world, is now the coffee maker brand owned by Philips and the leader in the industry of household and commercial coffee makers who invented the world's first automatic espresso coffee maker. Saeco is designed excellently. Although it is small in size, it has a outstanding performance with a overall high price. In American Consumer Reports, Saeco is the second most recommended Italian brand after Delonghi. It has an excellent performance in extraction ability and stability and it is very convenient to operate. Saeco is the first company with the identification of sensory perception to ensure the quality of coffee, which has received the certification from Italian professional sensory analysis agency. Saeco is undoubtedly the professional choice.
Gaggia   82 points
Gaggia, founded in 1948, is an famous coffee maker brand in Italy and also the inventor of Espresso coffee. Gaggia invents the way that using spring plug to make coffee instead of steam. This way increases the air pressure when coffee is brewing and creates a rich "coffee balsam". It is an innovation of Italian coffee. It is the espresso. The Gaggia classic espresso maker is equipped with an electronic control system which is used to control the grinding density and the water volume of each cup. It has an excellent performance in extraction ability, cleaning ability and usability. Worries of coffee quality can be spared.
Jura   81 points
Jura, coming from Switzerland, is the world's first brand in the automatic coffee machine industry and is regarded as the " Rolls-Royce in coffee machines". In German and Switzerland, Jura is the Italian coffee maker brand with the highest sales. Jura Giga 5 Automatic Coffee Machine has two separate grinding and heating systems. It can make two different kinds of coffee at the same time, which save producing time and worries that coffee tastes interfere with each other. Whatever type the coffee is, GIGA 5 can provide 19 procedures to deal with it for you. Jura's performance is excellent. Jura is a good choice with good overall performance for those people who have sufficient budgets.
KRUPS   80 points
BRUPS, founded in 1864, is the the market leading professional producer of coffee makers and provides OEM of capsule coffee machine together with Delonghi. As the first most recommended brand of Italian coffee maker, KRUPS has gained high evaluation in the coffee taste and milk foaming ability. It can produce many types of coffee makers, among which American-Italian coffee machine is more distinctive. These two systems are independent of each other in the same coffee maker. When you are busy, you can make a cup of American coffee. When you are not busy, a cup of Italian espresso can spend the leisure time. This American-Italian coffee maker is a good partner in life and its quality and price is also in the upper level.
Cuisinart   79 points
Cuisinart is a well-known brand of small kitchen appliances and cookware in the United States with annual sales of over $400 million. It is the firstly recommended type of drip coffee makers by America Consumer Reports. Cuisinart mainly produces American coffee machines. These machines' stability and extraction ability are certainly not comparable to that of Italian machines. While the performance of Cuisinart drip coffee maker is excellent, mainly because it is in line with the American tastes. If your taste is light and you have a special liking for American coffee, or you cannot adjust to the taste of Italian coffee at the moment, Cuisinart must be your first choice.
Keurig   74 points
Keurig is a capsule coffee maker brand of Green Mountain Coffee company, accounting for about 70% of the U.S. market. Green Mountain Coffee has the K-cup (one cup of coffee at one time) packaging patent and special single-cup coffee machine. The sales of Keurig K-cup coffee maker is as high as 12 million only in North America and the daily consumption of coffee capsules is as high as 2.5 million. Its advantage is in the variety of types with 13 brands and over 200 types of coffee, tea and hot cocoa, which can meet the different needs of consumers. However, Keurig can not make espresso because of its low extraction ability and stability compared with the Italian coffee makers. If you like to drink espresso, Keurig can hardly meet your need.