The number of machines that cater to recreational stitching activity but at the same time offer some amount of professional functionality is not very high but it is gradually increasing. Among the few on the market, the Brother CP-6500 computerized sewing machine makes its mark with a good blend of functionality, efficiency, simplicity, and frugality.
It may not be the cheapest machine but for what it can do, it is definitely worth every penny spent, even at full retail price. The level of automation on this machine is quite good as we shall unveil later and the machine is quite small in size making it suitable more for the house than anything else.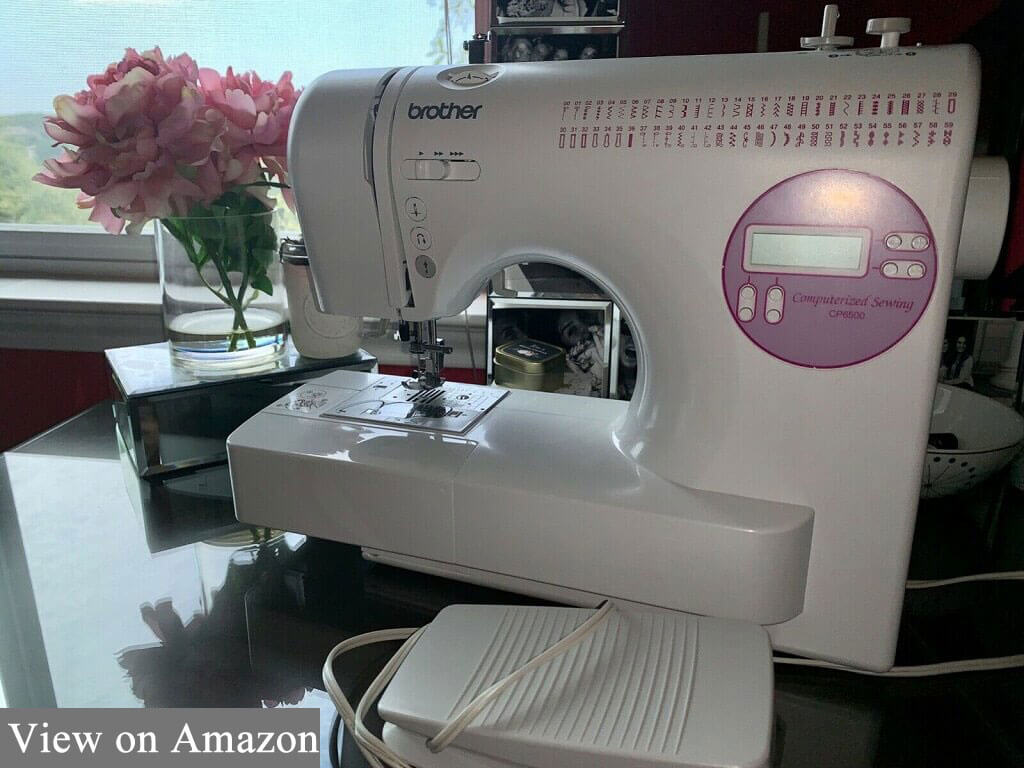 Design
At first looks, the machine is small. It doesn't have a hefty build but the quality is quite decent. Granted, the machine is not cast in metal like the heavy-duty ones out there but the plastic doesn't dent either.
Opening up the box reveals a very detailed instruction manual which is quite simple to follow. That confirms the fact that the Brother CP-6500 is one of the best beginner sewing machines too despite all the advanced features that it possesses.
Rich Functions
The list of features on this machine is quite impressive but not endless like the professional sewing machines. They are all easy for beginners to use but at the same time can do justice to specialized stitching too. There are over 60 varieties of built-in stitches and with their multiple options included, this number becomes 100. All of them have adjustable parameters such as length, width, and tension and these can be easily controlled through the LCD screen.
The stitches cover all types that one can imagine ranging from the simplest utility ones to hold two pieces of fabric together to some very intricate decorative ones that are commonly found on designer clothes.
Easy to Operate
The functionality on the machine is designed to keep the user in the use and this is evident even after hours of testing. The speed control for the motor is very easy to use and the broad range of speeds ensures a smooth tailoring job.
There are no jumps or kinks in the motor but it did have some trouble when thick fabric like felt was used probably because the machine is not meant for such jobs.
Moreover, the level of automation in the machine is quite striking as even simple jobs like needle threading can be done by the computerized mechanism and at the same time buttonholes too can be done in a single step.
In addition, it takes nothing more than a mere push of a button to control the stitching operation and even reverse the direction.
Conclusion
The only downside in this machine that was seen after testing was that the needle breaks rather quickly. Most users are happy with this manufacturer and have reported hardly any problems.
Pros
Great value for money
Decent variety of functions for a beginner machine
Accessories included are quite comprehensive
Small size renders easy stitching
Cons
Inability to stitch thick fabric
Needle mechanism rather brittle
---