There is no point in purchasing a $500 sewing machine if you do not need to work on something complicated but just need it for simple stitching and repairing and the occasional decorative work.
Moreover, if you are just a beginner at the intricate art of tailoring, the ideal machine is something that is easy to use.
The Brother CP-7500 computerized sewing machine combines all these and features some starting level functionality that is great to just get into the stitching scene. It is not the most mesmerizing of machines but it gets the job done and doesn't cost too much, as is evident in the build quality.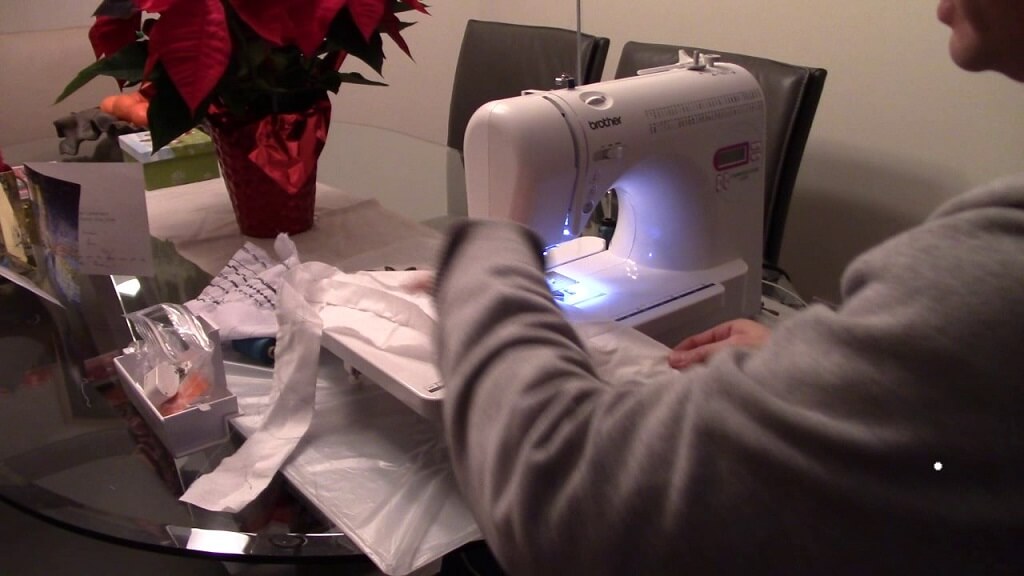 Design
For starters, this beginner's sewing machine comes built-in with 70 utility stitches and a total of 40 decorative and heirlooms stitches that have multiple functions. Moreover, there are also 7 variants of single-step buttonhole punchers with adjustable, automatic size. On first looks, the machine is quite small, and rightfully so because it is one of the most basic ones out there.
This machine is simple to use and functions well and seems to be pretty strong on the inside. However, the low price is evident in certain areas such as the outer casing which is quite flimsy.
Incredible Automation
For a machine that costs as little like this, the level of automation was quite incredible. Firstly, the threading is very simple; there are automatic ones that we have tested in the past but they end up requiring the user to hold the thread perfectly but this one does the job on its own and requires just a push of the lever. The machine seems to be accepting pretty much all types of thread in our testing procedures but this is something that will come to light only after regular usage.
Another neat little device in place is the slider control for the speed which is calibrated quite well so the stitching speed can be made very precise. The slider is built well, unlike some other parts of the machine, as it should be considering that it will be put to regular use. Rigorous testing showed no evidence of loss in quality; it was as precise and changed speeds quite quickly. A great automatic feature is the self-winding of the bobbin; it lets users avoid hours of rolling them up with their hand and this one is perfect too so there is no chance of the thread bunching up and knotting. This part too was tested and there was no evidence of that and hardly any users have problems in the department.
LCD Screen
Tucked away in one corner of the machine is an LCD screen that is easy to read and great for controlling the functions. The buttons needed are spread out around this and most of the functions require just one press.
Easily Damaged
Moreover, the lightweight coupled with the thin plastic will probably end up damaging the machine in case of a fall. A good idea would be to purchase a hard case along with it. This economical model comes with a few accessories including a quilting foot but it is not capable of performing such tasks. While we didn't encounter any bunching in our testing, some users have reported that the wrong tension in the thread causes the bobbin to bunch up and that it took them a few tries to get the tension perfect. This machine is ideal if all that is needed is the basic stitching functions.
Pros
Economical and great value for money
Decent library of stitches on board
Automation of basic tasks
Easy to use functionality
Cons
Build quality is poor
Occasional bunching up of thread in the bobbin